I am honored to have received endorsements from following organizations and individuals for my state senate campaign:
Organizations:
Colorado AFL – CIO
Colorado Education Association (CEA)
American Federation of Teacher (AFT)
Emily's List
Planned Parenthood Votes Colorado
Cobalt
Colorado People's Alliance
AFSCME (American Federation of State, County and Municipal Employees)
Pipefitters Local 208
Southwest Regional Council of Carpenters (SWRCC)
Sierra Club
Colorado Organization for Latina Opportunity and Reproductive Rights (COLOR)
Blue Rising
Colorado Black Women for Political Action (CBWPA)
Colorado Ceasefire
Current and Former US and Colorado Elected officials:
Congressman Joe Neguse
Congressman Jason Crow
Colorado State Treasurer Dave Young
Hon. Peter Groff
Hon. Dickey Lee Hullinghorst
Hon. Wellington Webb
Hon. Wilma Webb
Hon. Gloria Tanner
Hon. Suzanne Williams – Former Senator for Senate District 28
Colorado Speaker of the House – KC Becker
State Senator Lois Court – President Pro Tempore
State Senator Rhonda Fields – Assistant Majority Leader
State Representative Alec Garnett – House Majority Leader
State Representative Chris Kennedy – Assistant Majority Leader
State Representative James Coleman – Co-Whip
State Representative Adrienne Benavidez – Co-Whip
State Senator Nancy Todd – Current Senator for Senate District 28
State Senator Dominick Moreno
State Senator Brittany Pettersen
State Senator Jessie Danielson
State Senator Pete Lee
State Senator Faith Winter
State Representative Jeni James Arndt
State Representative Tracy Kraft-Tharp
State Representative Cathy Kipp
State Representative Edie Hooton
State Representative Dominique Jackson
State Representative Mike Weissman
State Representative Susan Lontine
State Representative Barbara McLachlan
State Representative Dylan Roberts
State Representative Jovan Melton
State Representative Leslie Herod
State Representative Tony Exum
State Representative Mike Weissman
State Representative Chris Hansen
State Representative Meg Froelich
State Representative Monica Duran
State Representative Serena Gonzales-Gutierrez
---
Previous Campaign Endorsements:
I am incredibly honored to receive this endorsement from President Obama in my 2016 campaign for House District 40!
October 27th, 2016
PRESIDENT OBAMA ENDORSES Janet Buckner FOR Colorado House District 40
Support Underscores Crucial Nature of This Race
WASHINGTON —Today President Barack Obama endorsed Janet Buckner in her race for Colorado House District 40. Janet Buckner is among a select group of state legislative candidates from around the country to be endorsed by the President. House District 40 encompasses South Eastern Aurora.
This contest has caught national attention due to Janet Buckner's commitment to working families and education initiatives.
"We are thrilled that President Obama is endorsing our candidates in some of the most competitive races across the country," said Jessica Post, Executive Director of the Democratic Legislative Campaign Committee. "His endorsement highlights how crucial state legislative elections are to building on the progress the President has achieved and to continuing to move our nation forward."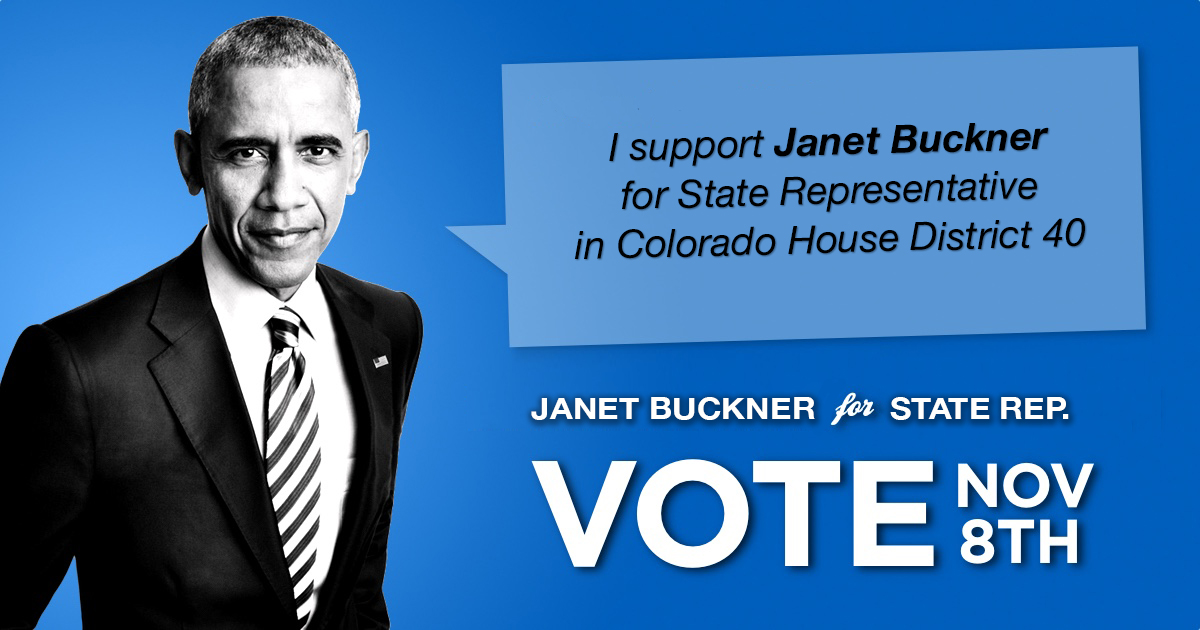 I am incredibly proud and honored to have these organizations and individuals endorse my candidacy. Thank you all for your support and contributions. Email us here if you would like to be added to our endorsement list.
---
Endorsements from Governor John Hickenlooper and Senator Michael Bennet
We have also received the endorsement from Governor Hickenlooper and U.S. Senator Michael Bennet. Here are their gracious statements below:
"State Representative Janet Buckner is running to continue serving the citizens of House District 40. Janet's immense strength and love for her community has driven her to continue the legacy of her late husband, former Representative John Buckner. I am proud to stand with Janet – a leader dedicated to standing up for working families, striving for better standards of living, and ensuring public schools are properly funded and supported. House District 40 citizens will be well-served by returning Janet Buckner to the gold dome to continue her service."
– Governor John Hickenlooper
---
"
Janet is carrying on the legacy of her late husband, John, in the State House by working to improve our education system, protect our environment and defend women's health issues. We need to reelect her for the sake of House District 40 and all of Colorado."
– Senator Michael Bennet
---
The follow organizations and individuals have endorsed my Candidacy:
(American Federation of Teachers)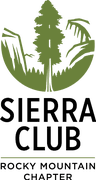 In addition to the list above, we have also received the endorsements from these great organizations:
Colorado Academy of Family Physicians (CAFP)
Secure Pera: Colorado coalition for retirement security
Colorado Advocates for Rural Electrification (Care)
Colorado Contractors Association (CCA)
Colorado Dental Association
Stand for Children
Mountain west Credit union
Sheet Metal Workers #9
United Food and Commercial Workers Local #7
Individuals and legislators who have endorsed my candidacy include:
Governor John Hickenlooper
U.S. Senator Michael Bennet
State Rep. & Speaker Dickey Lee Hullinghorst
State Rep. & Majority leader Crisanta Duran
State Sen. Nancy Todd
State Sen. Morgan Carroll
States Rep. Alec Garnett
State Rep. Millie Hamner
State Rep. KC Becker
State Rep. Brittany Pettersen
State Rep. Rhonda Fields
State Rep. Jovan Melton
State Rep. Angela Williams
State Rep. Pete Lee
State Rep. Jessie Danielson
State Rep. Dominique Moreno
State Rep. Paul Rosenthal
State Rep. Joe Salazar
State Rep. Lois Court
State Rep. Mike Foote
State Rep. Susan Lontine
State Rep. Faith winter
Former CU Regent, Hon. Joe Neguse
Save
Save
Save
Save
Save
Save
Save
Save
Save
Save
Save
Save
Save
Save
Save
Save
Save
Save
Save
Save