Janet Buckner's 2018 Campaign Endorsed by the Sentinel 
Click link for full article
Published:  October 18th, 2018 by The Sentinel Editorial Board, sentinelcolorado.com
"Democratic State Rep. Janet Buckner is the logical choice for House District 40 voters.
Although her candidacy was the result of the tragic loss of her husband and House district predecessor, John Buckner, her appointment to the seat has been a boon for southeast Aurora area voters."
---
Janet Buckner's 2018 Candidate Questionnaire and Profile by the Sentinel
Click link for full article
Published: October 12th, 2018 by Kara Mason, sentinelcolorado.com
"Buckner is seeking a second elected-term for the district. She's currently the vice chair of the House Education Committee. Accordingly, she's put an emphasis on education legislation during her time at the state Capitol."
---
Janet Buckner's Legislation to Help Address Colorado's Skilled Nursing Shortage Becomes Law
Click link for full article
Published: March 26th, 2018 by Colorado Community College System, globenewswire.com
"Bill sponsor Representative Janet Buckner thanked her colleagues in both chambers for their support of the bill, remarking "I have met with many community college faculty and nursing students in the course of developing this legislation, and it is clear to me that they are passionate about meeting this important workforce need. It just makes sense to enable the community colleges to offer BSN completion programs, especially when you consider how desperately Colorado needs BSN-prepared nurses!""
---
Janet Buckner Speaks Out Against Racism at  MLK Remembrance Ceremony at the Colorado Legislature
Click link for full article
Published: January 22nd, 2018 by Lola Jacobs, Vibe.com
"Janet Buckner (D-CO)'s touching speech dedicated to Dr. Martin Luther King Jr., has resonated in the hearts of many for its poignant reminder about racism in America."
---
Denver Post Editorial Board urges the State Legislature to pass Patient Safety Act Sponsored by Rep. Janet Buckner
Published: January 24th, 2017
---
Janet Buckner Endorsed by President Obama
Click link for a full list candidates endorsed by President Obama
October 27, 2016
PRESIDENT OBAMA ENDORSES Janet Buckner FOR Colorado House District 40
Support Underscores Crucial Nature of This Race
WASHINGTON —Today President Barack Obama endorsed Janet Buckner in her race for Colorado House District 40. Janet Buckner is among a select group of state legislative candidates from around the country to be endorsed by the President. House District 40 encompasses South Eastern Aurora.
This contest has caught national attention due to Janet Buckner's commitment to working families and education initiatives.
"We are thrilled that President Obama is endorsing our candidates in some of the most competitive races across the country," said Jessica Post, Executive Director of the Democratic Legislative Campaign Committee. "His endorsement highlights how crucial state legislative elections are to building on the progress the President has achieved and to continuing to move our nation forward."
---
Janet Buckner Endorsed by the Aurora Sentinel
Click link for full article
Aurora Sentinel | October 21,2015
State Rep. Janet Buckner hit the ground running just over a year ago, and she hasn't stopped. Voters in Aurora's House District 40 need this high-energy lawmaker to keep working for them. Buckner was appointed to the seat her husband held when he died just over a year ago. She quickly has filled the void left in the legislature created by the death of her husband and former educator, John Buckner. A fast study and passionate representative, Janet has created her own reputation of being a legislator eager to get things done to improve education and to ensure civil rights. Southeast Aurora will be well served by her second term in the state House.
---
Rep. Janet Buckner Stumps for Parental Involvement bill in Aurora ahead of legislative session
Click link for full article
Aurora Sentinel, by Rachel Sapin | January 9th, 2016
The 2015 measure would have required businesses with 50 or more employees to give them up to 18 hours a year in unpaid leave for parent-teacher conferences, special education services, interventions, dropout prevention, attendance, truancy, and disciplinary issues.
---
Janet Buckner Sworn in as new House District 40 representative
Aurora Sentinel | July 15,2015
The wife of former Aurora Rep. John Buckner took the oath of office Wednesday to serve the remainder of his term in the state Legislature.
State Rep. Janet Buckner was sworn in outside the Colorado House chambers on Wednesday afternoon. She will take her late husband's seat for the 2016 legislative session that begins in January.John Buckner died May 28 after battling a respiratory illness. He was 67.
A committee of Arapahoe County House Democrats unanimously appointed Janet Buckner on June 25 to fill the vacancy.
"I do this to honor John's memory, and for the people of House District 40," Rep. Buckner said in a statement following the committee meeting. "I am honored and humbled to have been selected, and I aspire to serve the people of Aurora well."
Janet Buckner retired in 2007 after a career as a speech and language therapist, as well as working in medical sales and hospital personnel management. She has a bachelor's degree in education from Ball State University. She moved to Aurora in 1975 and has lived here ever since.
Speaker Dickey Lee Hullinghorst, D-Boulder, issued a statement in support of the selection of Buckner for the seat.
"Janet Buckner is a qualified, dedicated, and passionate advocate for the people of Aurora," Hullinghorst said. "She will continue the legacy left by her husband, John, and represent her district with compassion, skill and grace. I'm thrilled that she'll be joining our caucus, and for the opportunity to serve with her."
Buckner has a son, Jay (Erin); twin daughters, Joy and Jennifer (Floyd); and three granddaughters.
http://www.aurorasentinel.com/news/wife-aurora-rep-buckner-taking-seat-death/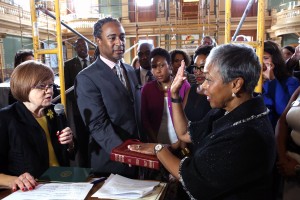 ---
The Colorado Statesman| July 16,2015
Janet P. Buckner, an Aurora Democrat, took the oath of office on Wednesday, becoming the newest member of the Colorado House of Representatives. She was elected by a vacancy committee to serve out the term of her late husband, John W. Buckner, who died in May.
"I'm grateful to all the people who supported me through these trying times and encouraged me to begin this new chapter," Buckner said after being sworn in. "I will devote all my energy to continuing John's legacy and addressing the concerns of my constituents in House District 40."
Buckner's addition to the General Assembly allows Colorado to reclaim bragging rights as the state with the highest percentage of women lawmakers of any legislature in the country, with 42 percent. (Vermont held the honor previously.)
"I admire Janet's courage for taking on this responsibility so soon after her bereavement," said House Speaker Dickey Lee Hullinghorst, who administered the oath. "She is dynamic and dedicated, honest and qualified, and I expect great things from her."
http://www.coloradostatesman.com/content/995906-buckner-sworn
---
Janet Buckner to seek appointment for late husband's state House seat
Aurora Sentinel | June 18,2015
Janet Buckner announced Wednesday afternoon that she wants to be considered for the Colorado House seat vacancy created after the May 28 death of her husband, John W. Buckner.
A Democratic Party vacancy committee will be meeting later this summer to consider candidates to be appointed to House District 40. John Buckner died after a brief bout with the inflammatory disease sarcoidosis. He was 67.
Janet Buckner issued a statement Wednesday declaring her appreciation for the many well-wishers and friends who have expressed support after John's passing last month.
"We are so thankful for the outpouring of love and support over the last few weeks – from John's family, friends, colleagues, former students, and the community as a whole," Janet Buckner's statement read. "Your support has meant so much to our family during this difficult time.  
 "My husband John was a true public servant. He spent his entire life helping others – his passion for policies that advance education and equity for all people guided his every decision," her statement continued. "As his wife and life partner for 45 years, I know how deeply he cared about these issues, and how hard he worked every day to improve the lives of people in our community."
 Janet and John Buckner moved to Aurora in 1975 and lived here ever since, with John spending most of his career as an educator and administrator with Cherry Creek Schools District. John was principal at Overland High School for many years, and the gymnasium was named after him in recent years.
Janet said her decision to seek to fill her late husband's seat is rooted in a desire to give back to the community by serving the same people who trusted and elected him to the Legislature.
"House District 40 has lost an unparalleled leader and advocate, and I am committed to carrying on John's legacy of making sure every child has access to a quality education and the opportunity to succeed," Janet Buckner's statement read. "I am dedicated to honoring my husband and fulfilling the trust that the people of Aurora have put in him to work on their behalf. … we raised our family here, and became part of the community."
http://www.aurorasentinel.com/news/janet-buckner-seek-appointment-late-husbands-house-seat/
---
Save
Save
Save
Save